Feature In The Thousands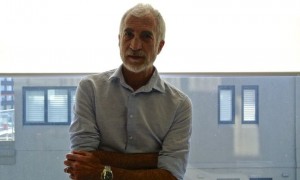 Where I live in Darlinghurst there must be at least one hairdresser per corner. And yet, up until now, I have hated getting my hair cut. Well maybe I shouldn't have kept my gaze at street level all this time. Because the greatest hairdresser I have ever come across chops locks atop a high rise hotel in the Cross. His name is Dario Chicco.
Dario runs Voi Haircuts and has been honing his skills for more than 50 years. From what I know – I have been to see him twice and always ask a lot of questions about his life – Dario used to work in Melbourne. He opened his first salon there on Darling Street in South Yarra and became a sort-of 'IT' guy: Dario cut hair for Vogue (here is a collage of his model clients in the '80s). In 2005 he appeared in this Japanese TV commercial.
I recommend seeing Dario on a day for which you can be organised enough to arrive 10 minutes early. He has good reading material (such as The Gentlewoman) and it's fun to see who is having their hair cut before you. One time my friend Aniqa went and she said the lady before her flies all the way from Perth for her appointments!
Don't expect any "styling". Nor should you enquire about the cost of colouring or a blow dry. Dario doesn't do them. He's committed to "wash and wear" real hair cuts, a belief that sure does alienate him from Bondi blondes. I have found it best to just show him what you've got. Then lay your head back on the basin and submit to the idea that you're in the hands of a captain of industry, floating above Sydney. Which, of course, you are.